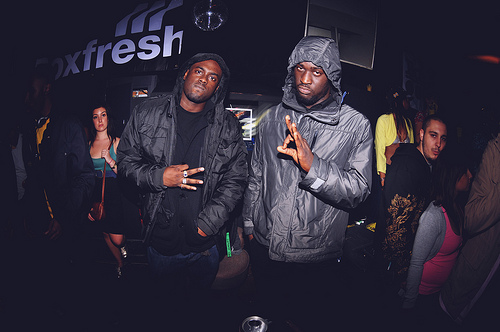 Grime music has been up and down over recent years, and it's only over the past few months that things have started to get back to how it once was - exciting! With the support of online platforms such as Tim & Barry, SB.TV, Grime Daily and Grime Forum pushing the genre non-stop, it seems as if fans are finally falling back in love with the sound that birthed the likes of chart-topping acts such as Dizzee Rascal, Tinchy Stryder, Chipmunk and others...
More and more club nights are starting to book grime acts again and mainstream publications are featuring members of the scene like never before. But when it comes to the music, MCs have recently been having a few words with dubstep, a genre of music that slowly seems to be taking over the underground music scene.
Gone are the days when grime MCs would jump at the chance to collaborate with overrated indie bands and electro producers (thank God), they're now opting for a sound more closer to home, dubstep. This mixing of sounds isn't new a phenomenon, though, MCs such as Newham Generals have been driving the dubstep train for quite some time now, but nowadays that train has got a few more passengers on board.
Introducing P Money and Blacks, a couple of MCs from south London who have invaded the dubstep scene in a way that has never been done before. After their recent performance at Glastonbury, it was clear to see that grime and dubstep was a match made in bass heaven, even though some fans will forever disagree.
"I can't speak for anyone else, but I've been into dubstep long before the whole hype," says P Money. "I was 17/18 when I used to go to the FWD>> raves in Shoreditch, from when Essentials used to be booked there. The intro to my first mixtape had a little dubstep bass to it, I've always loved heavy bass lines. In fact, I haven't even really heard many others on it. Grime is still cutting it, though, and always will - as you will hear from the new projects I have lined up. I've vocalled four dubstep tunes so far with 'Slang Like This', 'Left The Room', 'Fruits & Veg' and another one I'm yet to release. All my other tunes or tunes I've featured on are grime."
Blacks says that he doesn't blame the lack of quality grime production on his choice to spit over dubstep more these days, he just wants to do something new. "It's not that the grime productions aren't cutting it, because I love them too, it's just that dubstep is a new wave what people like and it isn't' far off from grime, it's just got a darker side to it. When it comes to the bookings side of things, there are more dubstep raves nowadays than grime ones and I've done a lot of dubstep work over the last year with P Money and the rest of OG'z. I would like to do my best in both worlds, because I love grime and dubstep."
So with this growing trend, surely there's a name that we can call it? Well, myself and infamous grime blogger, Laura 'Hyperfrank' Brosnan, recently had a conversation and thought of a few ideas. She came up with the term 'grimestep', while I thought 'grubstep' suited the coming together of sounds a bit more. Saying that, 'grubstep' just makes me want to order an extra large mixed shish kebab...
Wot Do U Call It?
Stay up to date with P Money on MySpace and Facebook
Stay up to date with Blacks on MySpace and Twitter
Photography: Matt Benson
Words and editing: Joseph 'JP' Patterson (@Jpizzledizzle)
This also appeared over at MTV: H E R E